A big kitchen design has to do with what kitchen style to choose. Sometimes it is an easy decision especially if you have an overall style for your home. In other cases, it is a difficult decision. However, we hope that with our kitchen styles we help you choose the best option for you.
As we all know that the kitchen is the heart of any home, there are no longer just hubs for cooking. Kitchens are a place where creativity is fostered and family comes together. Kitchens are utilitarian, functional, and deeply personal, it is the place where memories are made. 
| | |
| --- | --- |
| STYLE | PERCENTAGE |
| Contemporary | 25.25% |
| Modern | 10.59% |
| Traditional | 32.20% |
| Beach Style | 1.53% |
| Craftsman | 2.64% |
| Farmhouse | 3.02% |
| Mediterranean | 1.48% |
| Rustic | 2.21% |
| Transitional | 15.86% |
Types of Kitchen Styles
1. Traditional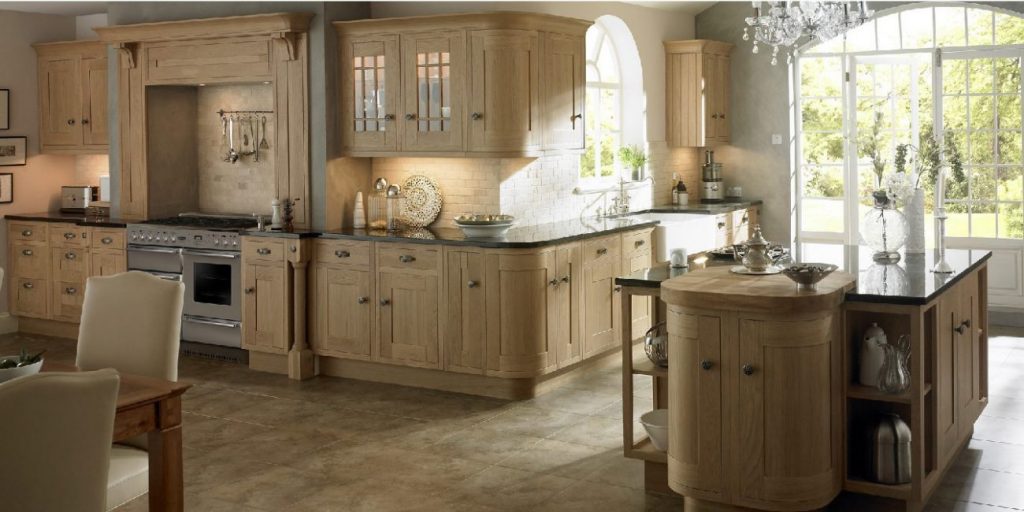 Elegant and timeless aesthetic
Modern American look and feel
Clean, comforting, inviting
Traditional + contemporary elements
Defined by its clean, comforting and inviting aesthetic. A traditional kitchen makes use of classic design elements and of fresh colours. It creates a look that is elegantly timeless. For a crisp and clean contrast that provides visual appeal and a sparkling vitality, there are commonly used white tiles, paint and accenting in the traditional kitchens.
By using and utilizing detailing like panelled or glass cupboard we keep the timeless style and appearance. Along with personally requisite details such as polished hardwood floors and coordinating backsplashes or modern steel appliances.
While traditional kitchens exhibit a casually overall feel and elegant look. The details can vary immensely. Very often, the visually appealing and perfectly complementary colour of white and dark woods are employed. There are many details that can help to highly distinguish one traditional kitchen from the next, starting from smatterings of stainless steel and polished accents, vintage or period accents and tailored upholstered seats.
2. Contemporary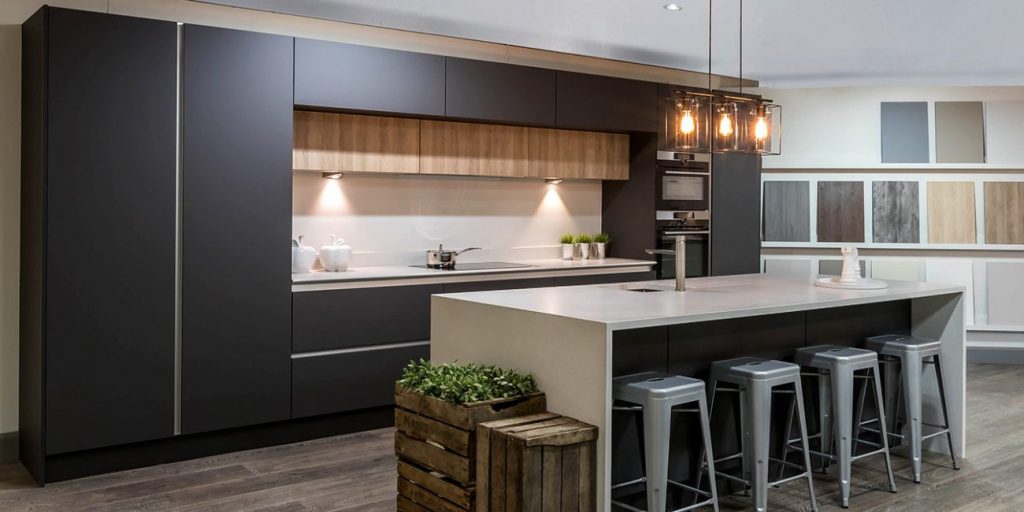 Modern and minimalist components
Artistic elements
Straight and horizontal lines
Uniquely bold simplicity
The contemporary style kitchen is a highly popular design concept. It has been readily embraced by homeowners in masse. A contemporary kitchen style incorporates a mixture of new and old and casual yet polished elements, giving a sleek aesthetic.
Traditional kitchens take advantage of classic design elements. Making it a more conventional and familiar appeal. While a contemporary kitchen is typically more artistic and minimalist style. These kitchens are unadorned and free of excess detailing. Rather, the focus tends to be on artistic and complementary between surfaces, colours, and materials.
Usually, modern trends for contemporary kitchens lack symmetry. It aims for a more geometric look. Horizontal lines will create a straightforward and user-friendly appeal. On the other hand, the use of unexpected details like concrete flooring, brushed silver knobs and tiny pops of colour will offer an industrial vibe.
When decorating a contemporary kitchen there is no standard blueprint; rather its design is defined by a minimalist decorating, clean aesthetic and strong and bold colour choices.
3. Transitional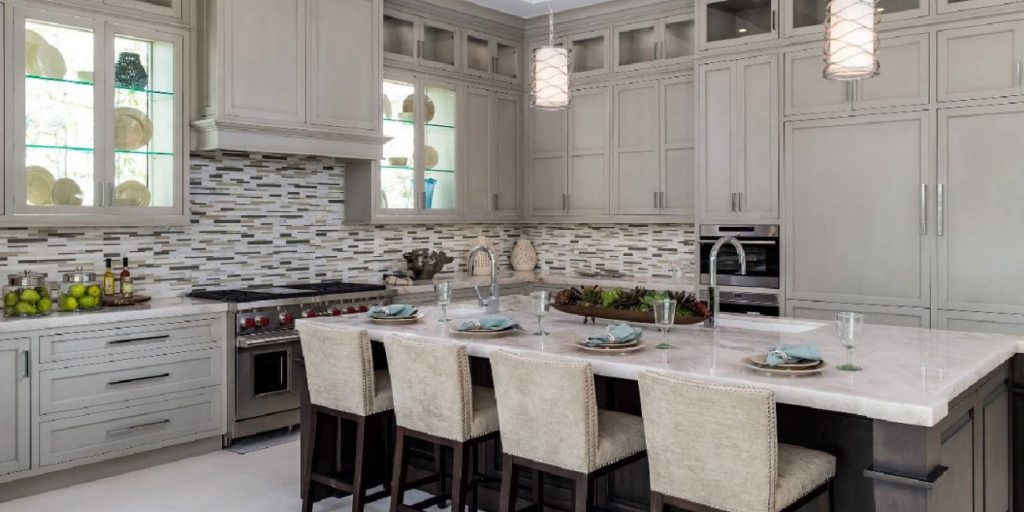 Traditional and contemporary design elements
Clean and simple minimalism
Inviting and engaging traditional style
Best of both worlds versatility
Transitional style kitchens encompass the best from both styles. They bring together a design concept by both traditional and contemporary. Transitional kitchens show off the beautifully clean and simple minimalist design elements. While designs and elements from both styles are used in transitional kitchens, also elements from other styles are utilized sometimes as well.
4. Modern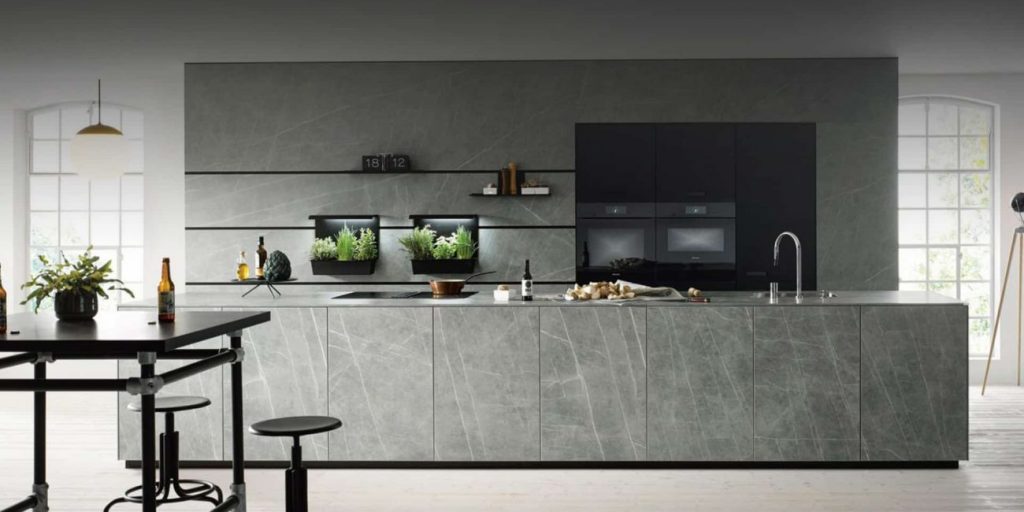 Sleekly sophisticated
Exotic and high-end materials
Clean lines and timeless silhouettes
Minimalist styling
A modern style kitchen embodies sleek sophistication and attractiveness. Our beautiful and polished countertops are accented with pops of colour to emphasize high-quality material and design. High-quality materials are in fact distinctive features of modern kitchens. Usually, it includes exotic materials that are luxurious to touch and sight. Luxury is pervasive throughout the modern kitchen.
5. Craftsman
Artisan Flair
Natural materials
Rustically appealing look and feel
Fine craftsmanship
Craftsman styled kitchen is unique, inviting, and comforting at the same time, offering an organic and earthy sensuality. This style was popularized by the early 20th-century movement during the industrial revolution.
Additionally, during this time in general, home design and architecture became very artisanal. Kitchen furniture, tablets and cabinets were built and designed to last a lifetime.
6. Farmhouse
Intimate and cozy environment
Highly decorative
Brimming with details
Natural and premium materials
7. Rustic
A multifaceted approach to decorating
An abundance of wood and stone
Eclectic styling with a nod to nature
Comfortable and earthy appeal
8. Mediterranean
Classical Grecian style notes
Intricate and high-quality details
Old-world opulence
Bold colours paired with earthy neutrals
9. Asian
Natural materials
Efficient use of space
A subtle use of decorative touches
Incorporates curves.
10. Industrial
Lots of brick, metals and wood
Open concept
Darker lighting
Common in loft condos and apartments
11. Mid-Century Modern
White with splashes of colour
Uncluttered
Straight lines
A hint of glam (chrome)
12. Southwestern
Similar style attributes to the Mediterranean style
Plenty of tile work – earth tones mainly
Brick and wood
Arches
Cavernous
Find a Partner for Your Kitchen Cabinet Maker and Design
If you are feeling confused and you haven't gotten a partner for your kitchen design Unica Concept is here. The shade matters when choosing gray for your kitchen cabinet colour. If you're the traditional type, darken it up with a smoky gray. Go light for a contemporary, chic style or a distressed barn wood to unleash the shabby-chic in you. Unlike some other cabinet colours, grays will offer the perfect balance of warmth and neutrality, working well for any size kitchen and style.
Feel free to call us at 416-746-2226 or to send us an email at supp[email protected]. We will help you to create a space very comfortable and attractive.
Please follow and like us: